Paragliding training information
If you are thinking about paraglider training, please study the material below. It will greatly help you decide what do to. After studying this material, you may contact us via email if you have any questions and we will do our best to help.
General information about paragliding and our training program. After reading the General information page, decide if you would prefer free flight (PG) or powered flight (PPG). You can change your mind later if you want. If in doubt, it is always better to start with free flight because learning to fly a paraglider without a motor is the priority. Here is a fine PG video production by Steve Crye showing the elements of why we love to fly The Dream of Human Flight is now a Reality - The Joy of Paragliding. While this video is only about PG it largely applies also to PPG.

New student pilots are trained via pay-in towing. Here is why we do it this way rather than from a training hill (which comes later).


Equipment for flying Typical setups for paragliding and powered paragliding. Foot-launched tuition includes the rental of all equipment required to train up to the P2 level and the early/mid PPG2 level. We suggest that you purchase your glider and, if foot-launched PPG, your paramotor towards the middle of your P2/PPG2 training. We will advise you as to the best and most appropriate gear that fits your age, skill level, interest, natural ability, and the altitude you will generally fly in. We are dealers for most brands of paragliding equipment but specialize in Ozone paragliders/harnesses/reserves, Sol harnesses, Sup'Air reserves/harnesses, and paramotors/trikes by Miniplane.


Equipment costs PG PPG Schedule training when the funds are available to buy gear (unless training ONLY for P1 or foot-launched PPG1).


Membership Join either the USHPA or USPPA depending on the type of training you will do if you are not already a member. (Optional for P1 and PPG1 students.)


Physical and mental requirements This is extreme air sports. Being out of shape and overweight is not a good idea and can even be hazardous. There is no practical weight limit for flying a paraglider. The bigger the pilot, the bigger the glider, assuming the pilot is not overweight to begin with.


Textbooks (Optional for P1 and PPG1 students) Purchase the appropriate textbook for your type of training and begin your study of the material. The first three chapters of each textbook are important. PG: Watch the DVD video in the PG Pilot's Manual. PPG: Purchase and watch Risk & Reward. Careful study of the respective video will greatly increase a pilot's safety margin and lessen risk.


Online Curriculum (P2 students only) Create a logon account, pay the tuition, and start your ground school training. When you complete the training successfully, let us know, we will confirm completion, and refund the tuition paid to take the course ($52 as 2020).


FAQs & Tips Study the "*" items. Watch the training videos. If you are a new student, please study this information on what happens during a tow.


Legal and operational details These are the important details of how we operate including the legal waivers you must complete before training begins.


Tuition costs Paragliding (PG) Powered Paragliding (PPG) Tuition must be paid in full before we can schedule training. Once you decide to train, contact us with the student name, email address, physical address, mobile number, and type of training desired and we will email an invoice. We accept checks and PayPal (add a 3% convenience fee). We are sorry that we cannot accept credit cards. Tuition is not refundable (see #3 of our legal details).


Schedule a meeting at our shop and begin your training

Because of the health crisis with SARS-CoV-2/COVID 19, all students are required to wear masks when attending ground school. Please maintain social distancing at all times. We do our best to schedule training when students are available. This can be any day of the week or holidays. At all times, the weather must be safe to fly in.
Flight school is conducted primarily at Robert S. Kerr Airport in Poteau, OK and at Buffalo Mountain in Talihina, OK. Special arrangements can be made for us to train at Smith Field in Siloam Springs, AR, Grove Municipal Airport in Grove, OK, and at Talihina Municipal Airport in Talihina, OK. We can also train at various military bases throughout the U.S. Ground school may be conducted at Robert S. Kerr Airport in Poteau, OK or at our shop.
"If you are too busy to practice kiting your glider, you are too busy to train."
We can continue training pilots from other schools who purchased their glider and equipment from that school. Formal training is not a waste of time and money, please take a look at this page and this one if in doubt. This short (and funny) video demonstrates the folly of do-it-yourself training.
Flying PG along the White Mountains, Owens Valley, CA. It does not get better than this. The launch was about 20 miles in the distance known as "Piute". Mt. Whitney is just visible in the distant right.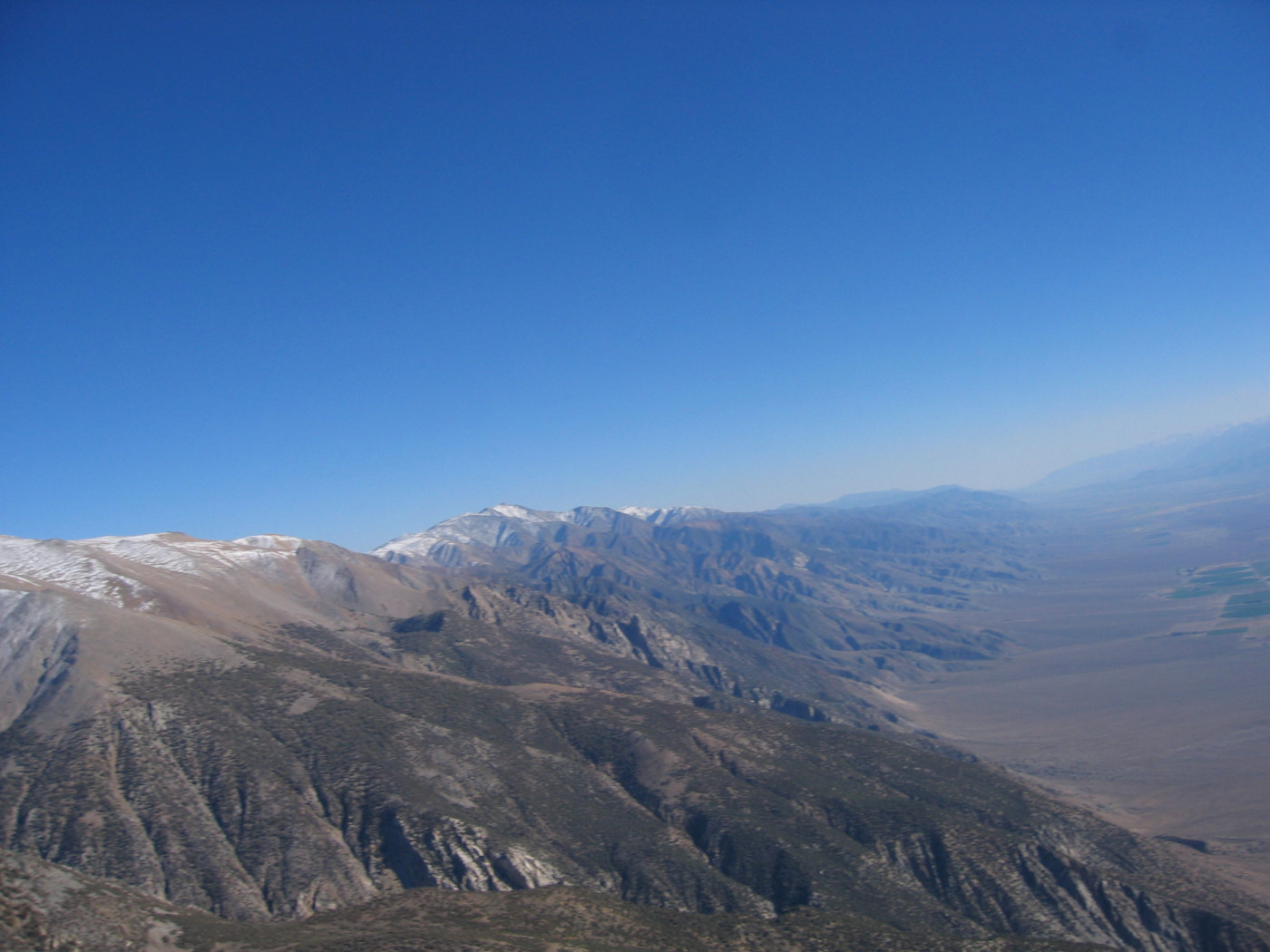 Notes on our training program
As a PASA certified school, Southwest Airsports, LLC operates in accordance with all PASA safety guidelines and school standards.
Instruction at Southwest Airsports is 100% personal, comprehensive and includes towing certification. When a student pilot graduates from Southwest Airsports, he will be able to fly as safely as possible anywhere in the world with confidence.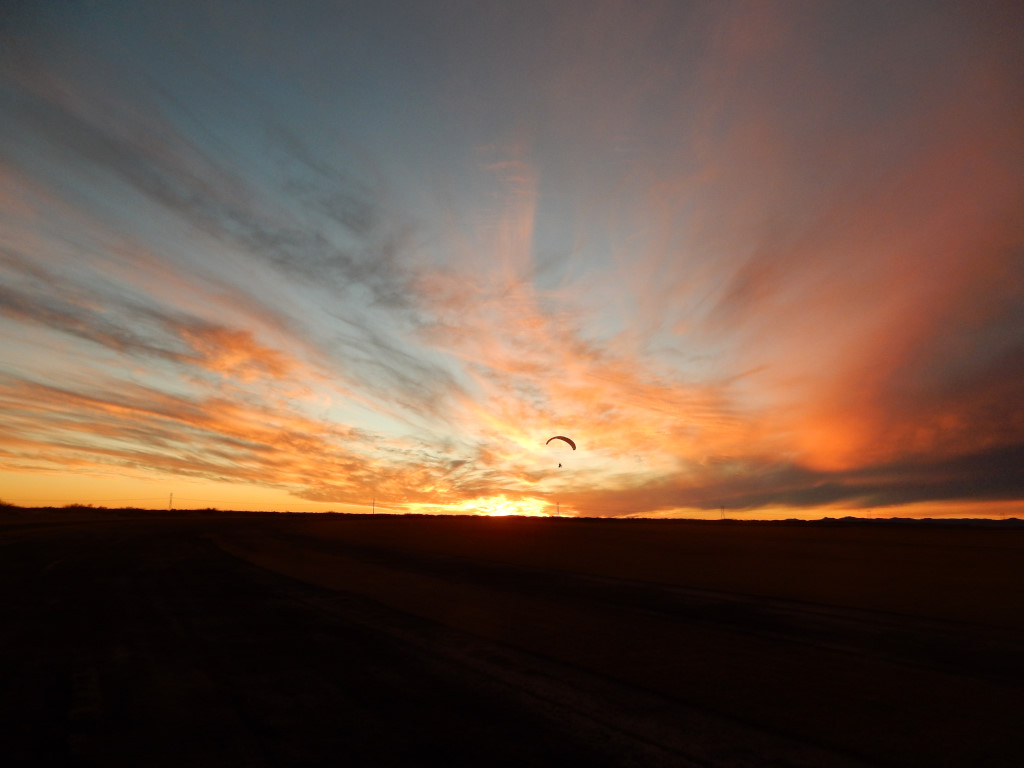 Paragliding is the closest thing to being a bird that there is. All other aircraft go down from there. No one has any idea what being a bird is like until he flies a paraglider. Below, going cross-country at cloudbase over central Florida.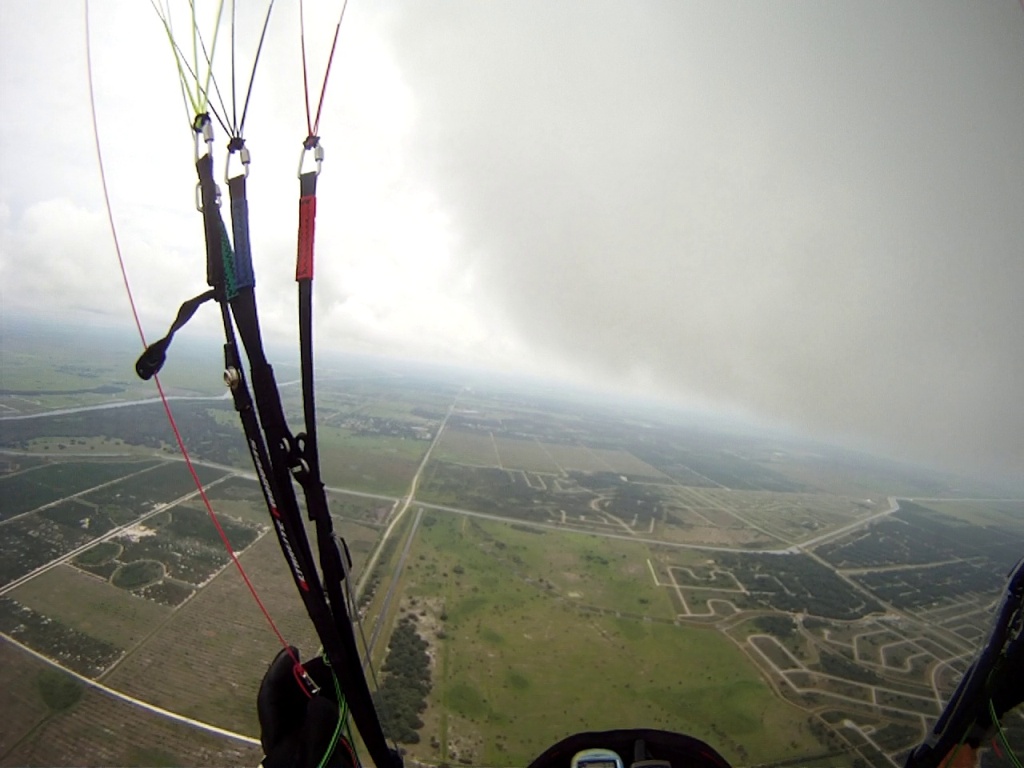 Extreme air sports like paragliding take years of practice to learn to do well. Pilots must be patient! The rewards for diligent and long term effort are, in our opinion, without equal, especially if you learn to thermal well. You will join an elite and tiny group of humans in the world who experience things ONLY the birds can. Want to know first hand what it feels like to exit and enter boundaries in the atmosphere? It's an unseen world that only hang glider and paraglider pilots – and the birds – know. Study the Turkey Vulture and the Albatross – we fumble along compared to these amazing geniuses. Their Creator intended them to fly so we can't be too jealous.
Gliding along at cloudbase in south central New Mexico. (photo by Steve Crye)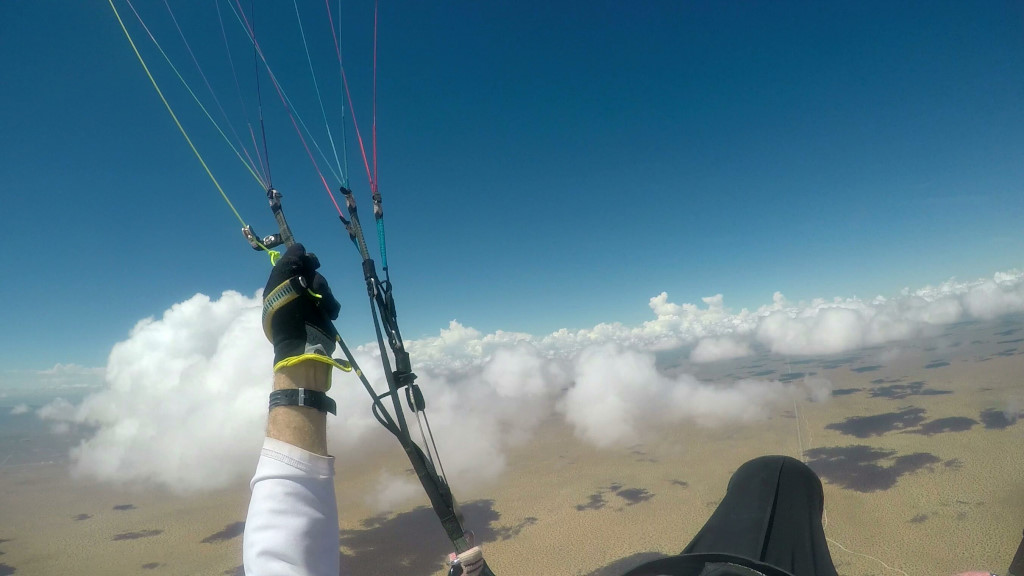 Los Tanques launch, Cauca River Valley – near Roldanillo, Colombia