PPG tuition & training details
Foot-launched instruction
As the pilot progresses through the PPG2 course, both he and the instructor will work together to make the best decision on overall equipment needs.
Here is a professionally made video by David Guerin of a typical PPG launch, flight, and landing. Here are the details on the USPPA ratings and requirements.
Wheeled powered paragliding instruction
It is much the same as foot-launched instruction, including pulling wheeled vehicles into the air with the engine off (see #4 above). Item #5 above does not generally apply to the extent that it does for foot-launched flying. There is no PPG1 training for wheeled PPG. All wheeled PPG students must purchase their equipment and begin with the PPG2 Novice certification package.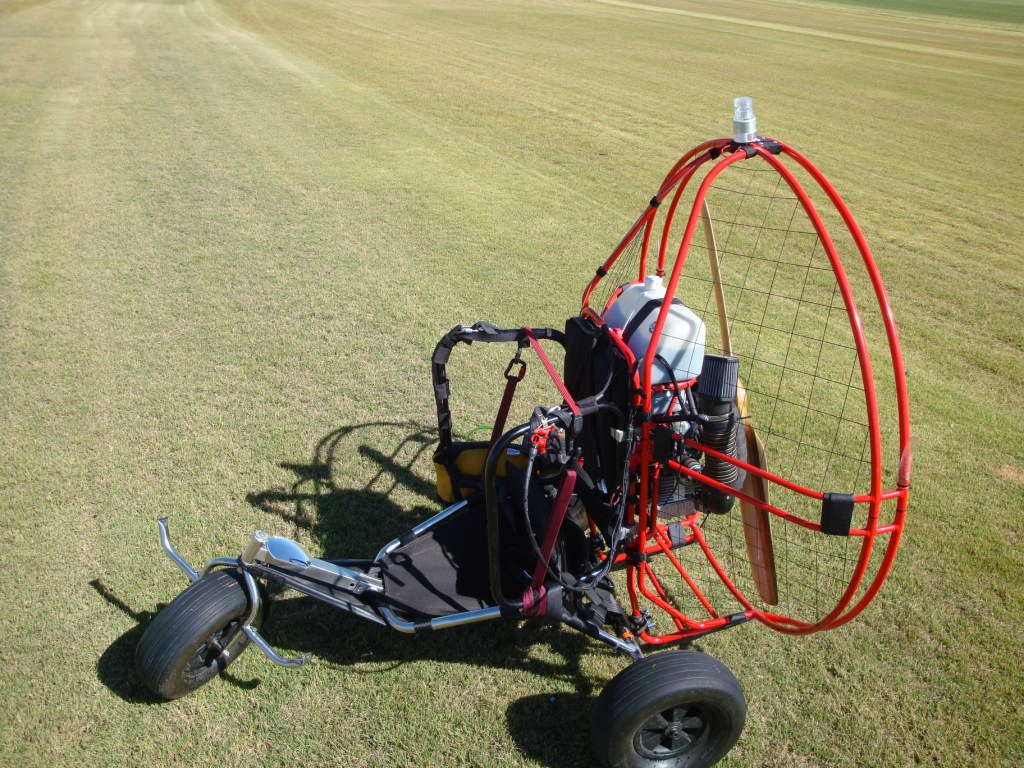 PPG1 Beginner package $350 2-3 days (foot-launched only)
PPG1 basic training is the same as P1 training. Our PPG1 program does not include training with the paramotor. Why is this? The pilot may want to complete this introduction if he has doubts whether he can safely fly a paraglider. Adding a paramotor will not help and why we make this introduction available. PPG1 rating requirements.
PPG2 Novice certification package $1,700 7-10 days or $350/day
This is the recommended course to begin your flying career as an independent pilot. You will master the fundamentals of flight in a powered paraglider foot-launched or trike/quad.
The time needed to train varies depending on the weather, student availability, and/or student ability. Training includes learning how to setup for landing in a specific area, increasing flying skills generally, covering the terminology, operation and preflight of the motor unit. Upon completion of this course, students are ready for extended paramotoring flights with their own powered paraglider. This is the minimum certification level that allows PPG pilots to fly without the direct supervision of an instructor.
If you are considering any PPG certification, purchase the DVD Risk and Reward and watch multiple times. It gives a clear presentation of what foot-launched PPG is all about. It is also relevant for those considering trike/quad PPG. It will also help keep you from damaging you equipment.
PPG2 rating requirements (see pages 3-4)
Type of training requested
The discounted tuition package is only for new students who purchase their basic equipment package from Southwest Airsports. Once the tuition is paid, we will assist you in the purchase of your flying equipment during your training.
Students who are already USPPA rated members and started paragliding programs elsewhere or have a paragliding background pay a daily rate. The number of days required for each individual student to achieve Novice certification is at the sole discretion of Southwest Airsports. Maximum tuition for the PPG2 course is $2,450.
Those who have already completed the PPG1 training at Southwest Airsports will get a credit towards their PPG2 tuition equal to their paid PPG1 tuition.
Students will:
Understand the paramotor power pack: assembly, disassembly, preflight, starting, throttle control, power cutoff, fuel/oil mixing, maintenance, torque and thrust effects, special dangers, transporting and storage.
Learn to control the wing through turns and mild turbulence.
Begin to understand meteorology and its importance for safe and fun flights.
Training Includes:
USPPA Syllabus study materials (does not include the PPG Bible textbook which must be purchased separately)
Computer based log book
Ground school
Unlimited hands-on instruction at the training site for your first powered flights.
PPG3 Intermediate training $250/day (no charge for our PPG2 graduates)
The time needed to train varies depending on the weather and student ability. Pilots training for PPG3 must be able to successfully complete a cross-country trip. Payment of tuition of (1) day is required in order to schedule training.
PPG3 rating requirements (see pages 5-6)
Crossover training (PPG to PG) $250/day (no charge for our PPG2 graduates)
The time needed to train varies depending on the weather, student availability, and student ability. Payment of tuition of (1) day is required in order to schedule training. Note: crossover training usually takes more than a single day, especially if the pilot trained elsewhere or is uncertified by either the USPPA or USHPA.
Tow training or Tow Tech training $390/day
This is the USPHA required training to be towed up by a winch or to become qualified to operate a surface tow (ST) winch for recreational towing (Tow Tech 1) or towing for compensation (Tow Tech 2).
For Tow Tech 1, these skills include demonstrating 5 or more tows, a minimum of two flights as the pilot under tow (solo or tandem), and the use of placarded written checklists for every flight. For Tow Tech 2, the skills include demonstrating risk management, normal and emergency operations, and operations with students, experienced pilots, and tandem flights. Note: At our discretion (the Towing Observer), video footage may be submitted to meet these requirement. For more details on this training, please read the towing program material from USHPA.
Payment of tuition of (1) day is required in order to schedule training.
Additional Notes
All PPG pilots need to be aware that a paramotor can quit at any time.
Kiting skills are essential for pilot safety. It is one of the most important skills a pilot can learn that will dramatically reduce the risks of this sport.
Below, a new PPG pilot readies himself to be towed up with his paramotor attached (but not running). This technique helps prevent task saturation, a very common problem for all new pilots. photo by Guillermo Vargas