Fuel system modification (FSM) for paramotors with diaphragm carburetors
by Had Robinson
updated May 15, 2021
Note: We are just about done testing the FSM. Currently, we are awaiting test results from other pilots who have installed the system. This page is for information only. We are also testing a superior decompression valve for paramotors. Thank you.
Why the FSM?
All diaphragm carburetors, including Walbro, Tillotson, and Zama, are engineered to have the fuel tank at the same level as the carburetor. However, nearly all paramotors have the tank far below the engine and the fuel level can be 18"(45cm) or more below the fuel inlet to the carburetor. This has caused relentless fuel starvation problems in both hot and cold weather because of vapor-lock. The carburetor fuel pump was designed to move fuel horizontally, not vertically. When the engine is running there is a vacuum at the carburetor fuel inlet that ranges from -7.2 to -13 inAq (-1.8 to -3.3 kPa) depending on the fuel level height in the tank. The vacuum increases if the fuel filters are clogged or there are other restrictions in the fuel supply system. Winter mixes of MOGAS further complicate the problem due to a higher vapor pressure that cause the fuel to fizz in the lines and, in particular, in the fuel pump.
Here are the benefits of the FSM:
high speed jet size can be reduced without overheating in the midrange because more fuel is available at higher throttle positions
vapor-lock eliminated
midrange roughness and misfire greatly reduced/eliminated because of smaller main jet settings
engines run smoother
carburetor rebuilds may be greatly extended and done "as needed" i.e. when running engine temperature begins to climb above average values.
low cost, lightweight, reliable, simple, durable, and vibration proof
eliminates engine stalls at launch
fast throttle response
increased power, especially in the larger engines (>100cc)
fuel starvation due to pump failure no longer an issue
engine more efficient, cleaner burning
no electricity required
calibration is visual and easy, no special gauges or tools are required
works with all grades of gasoline, including ethanol mixes and winter blends
At sea level, if the ambient temperature is moderate (21C/70F), and every part of the fuel and ignition systems is in perfect order, the fuel tank full, paramotors usually have enough fuel through the entire throttle range – but barely. However, an increase/decrease of the temperature, addition of altitude, winter-blend gasoline, modest problems such as semi-clogged filters, aged carburetor parts, ignition problems, and out-of-spec carburetor adjustments will almost guarantee that fuel starvation will occur.
As the throttle is opened, fuel flow increases along with the volume of air. The demand on the built-in carburetor pump also increases. Rather than just ceasing to pump fuel, it pumps proportionately less fuel the further the throttle is opened. That is, if fuel demand doubles, fuel supplied may be only 175% instead of 200%. If fuel demand triples, fuel supplied may be 250% rather than 300%. These figures vary but this explains the common problem of engines leaning out as the throttle is opened and sometimes stalling or fading at WOT. Vapor-lock inside the built-in fuel pump can worsen the problem.
The common fix (and also done by the paramotor manufacturers) is to install a larger fixed main jet or open the main jet further. The side effect is that the midrange is enriched. This causes the engine to "4 cycle" i.e. misfire in the midrange. One problem is traded for another. With cold weather, things get worse.
In order for diaphragm carburetors to function as designed, the fuel pressure at the carburetor inlet should be barely negative or, as with the FSM, slightly positive.
With the WG-8, for example, a change in pressure of less than 1 kPa (0.15 psi/4 inAq) affects the air/fuel ratio delivered to the engine and, as a result, engine temperature and performance. The higher the pressure at the inlet valve, the more fuel moves through the valve when it opens. This is why pressures inside the carburetor are critical. During field tests, the inlet pressure was varied. When the pressure was dropped slightly, engine temperature in a Polini Thor 130 increased 30C-40C very quickly, even while running in the midrange.
How can the problems be fixed?
An inexpensive auxiliary fuel pump could be added to the existing system but its output pressure would be too high and too variable. Excessive fuel pressure can force open the inlet needle valve, depending on the condition of the ML spring, and flood the engine. There are electrical auxiliary pumps ($80+) that have the right pressure output. The also require a battery, on-off switch, and wiring. Nonetheless, even a quality auxiliary fuel pump can fail to achieve sufficient output at all throttle settings because of vapor lock! In field tests with everything perfect, engine fade at WOT using the finest gasoline made (AVGAS), vapor lock was still experienced under certain conditions (detected via a video camera on the fuel system parts). Even modern automobiles will experience vapor lock if conditions are right (high altitude, high temperature along with cheaply manufactured gasoline.)
Hence, the need for the FSM – it eliminates the inherent problem with the fuel tank location and supplies fuel at a very low constant pressure (VLCP) to the carburetor over the entire throttle range, regardless of fuel level in the tank. It maintains an average pressure of about 0.4 psi/11 inAq/2.75 kPa. These pressures vary little from idle to full throttle.
The greatest benefit of the FSM
Extensive testing has demonstrated that the FSM allows for a smaller main jet (fixed or adjusted). In order to prevent overheating, paramotor manufacturers install a larger main jet in the WG-8 (or specify a richer main jet mixture on the WB-37) to compensate for lower pump output at WOT. This, however, makes the midrange rich and causes "4 cycling" of the engine, especially with the WG-8. Instead of some fraction of the fuel needed near or at full throttle, the FSM supplies 100% which eliminates the need for greater main jet sizing. When I first starting studying these carburetors I wrongly assumed that the very rich midrange was deliberate for some reason. When I installed the first FSM I realized the engineering brilliance of the Walbro diaphragm carburetor, but only if the fuel tank is at the same level as the carburetor.
With the FSM, the common and annoying stall when quickly going to full throttle at launch becomes a thing of the past.
Larger engines have demonstrated a 10% increase in power at WOT. Below is a tachometer reading of 9,080 RPM at WOT with the FSM installed on a Polini Thor 130, stock carbon fiber prop, at HIGH ALTITUDE (4,500' MSL) and in cold weather. Normal WOT for this engine at this altitude is about 8,400 RPM. Engine RPM must be monitored after the FSM is installed so maximum specified RPM is not exceeded.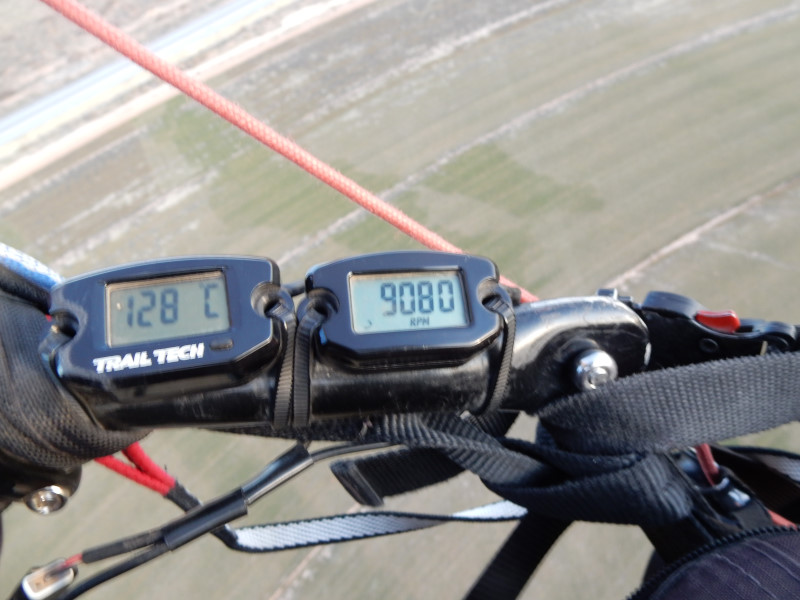 The heart of the FSM is a pulse-powered fuel pump and the VLCP regulator assemblies. An external pulse port is required to operate the pump. However, some engines, including the Top 80, have an internal pulse port so an external port must be added. It is a relatively simple task to drill and tap a hole in the crankcase near the reed valve assembly for a 1/8" barb x 1/4" NSF (6mm) barb fitting. The right sized drill and tap are included in the FSM kit for engines without an external pulse port.
Why not use an electric pump? As noted above, it is an option but it would require a battery, wiring, and add extra weight to the paramotor. Those pilots flying engines without an external pulse port and who have little or no mechanical skills to drill and tap a hole in the crankcase might want to use an electric pump with the FSM.
Other pulse-powered pumps cannot be compared to the Walbro. Tests on clone pumps (Chinese knock-offs) had outputs <25% of the Walbro. However, when the pump is mounted at the base of the fuel tank, special steps have to be taken to prevent the pulse side of the pump from filling up with oil and stopping operation.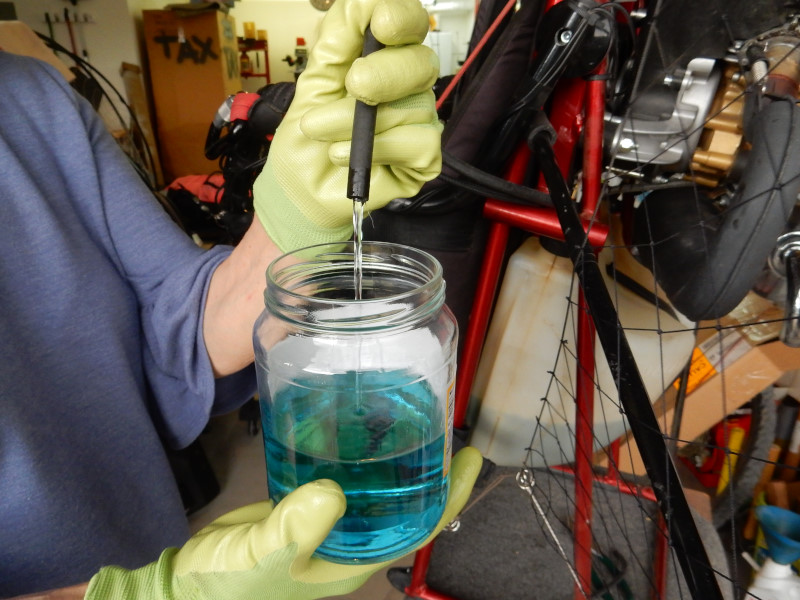 Above is a photo of an idling Polini Thor 130 with the FSM installed. It pumps about a liter per minute, much more than would ever be required. The pressure output is 7 psi/48 kPa which is why a VLCP system must be installed.
Other solutions for diaphragm carburetor typically involve internal modifications, special metering lever springs, and over-sized jets. However, none of these fix the root problem. An electric in-tank pump (as is used in snowmobiles and jet-skis) could solve the problem but it would still require the VLCP regulator system. The cost would be well over $250, add significant weight, and would require a battery and specialized wiring. Having electrical wiring and terminals around gasoline also adds risk of fire and explosion, to say the least. These Band-Aid type fixes may slightly help but they only work well under some conditions (cold/hot/high altitude) but not another. With these partial/temporary solutions carburetor tuning becomes difficult (or impossible) and unpredictable.
One of the ways the fuel pressure at the carburetor inlet is measured during field tests.
Pilots flying at all altitudes and conditions will benefit from the FSM. Nonetheless, high altitude operation will still require adjustments of the carburetor jetting. Cold temperature operation (near or below freezing) will require cold weather modifications. Even the presence of enough fuel at the carburetor cannot compensate for the fuel/air mixture being insufficiently vaporized inside the engine. (This is why fuel injected engines in modern automobiles greatly increased efficiency and performance in all kinds of ambient conditions.)
Because of decreased main jet settings, midrange performance modifications are not required. This is another important benefit of the FSM.
If ethanol fuels are used, pilots must allow for more frequent maintenance of the system. Ethanol, a powerful solvent, tears up all flexible fuel system parts including the VLCP regulators.
While the FSM greatly improves the overall fuel supply system, engine performance can still suffer due to the same reasons as with the stock system, such as:
incorrect carburetor adjustment
overdue carburetor maintenance
clogged filters
water/contaminants in fuel
incorrect metering lever height
crushed or defective fuel lines
incorrect main jetting
worn out or incorrectly adjusted spark plug
ignition and mechanical issues
The FSM is not a cure-all for a poorly maintained or incorrectly adjusted engine. It is a permanent fix of the fuel supply system common in nearly all paramotors.
WARNING: THE FSM CHANGES THROTTLE RESPONSE AND OUTPUT IN MOST ENGINES. PILOTS MUST EXERCISE CARE IN GOING TO/NEAR FULL THROTTLE!
NOTE: ENGINE TEMPERATURE WILL INCREASE IF THE MAIN JET IS RESIZED. BE SURE THAT YOU DO NOT EXCEED MAXIMUM ENGINE TEMPERATURE! MOSTER ENGINES MUST HAVE THE COOLING SHROUD INSTALLED.
THE FSM *MUST* BE INSTALLED WITH A CHT.
The FSM can be installed by most pilots who are handy with ordinary tools and are willing to learn how to use them. Southwest Airsports can install and test the FSM on your engine for $449. This includes the FSM but not any custom jets that may be required nor round trip shipping of your engine.
Parts lists
Replacement parts are available for those who have purchased the FSM kit. The VLCP's should be replaced each time the carburetor is rebuilt. Their total cost is less than a carburetor rebuild kit. Please contact us for more information.
A. FSM kit $169
(1) Walbro fuel pump (This pump must be genuine Walbro. Factory rejects or the Chinese clones commonly available on eBay will not work.)
(2) 1/4"/6mm tees located at engine pulse port and at VLCP #1
(1) 1/4"/6mm special tee for pump oil drain (white mark goes to drain line)
(1) 1/4"/6mm elbow between carb tee and VLCP#2
(46"/117cm) 3/16"/4mm ID clear fuel line – tank shutoff valve to tee after VLCP #2 to VLCP #1 to vent
(6"/15cm) OPTION 1/8"/3mm ID clear fuel line (carbs with 1/8"/3mm fuel inlet)
(6"/15cm) OPTION 3/16"/4mm ID clear fuel line (carbs with 3/16"/4mm fuel inlet)
(6"/15cm) OPTION 1/4"/6mm ID clear fuel line (carbs with 1/4"/6mm fuel inlet)
(18"/46cm) 1/4"/6mm ID Tygon® LP1100 fuel line (from tee after VLCP #1 to tank (fuel overflow line) Note: it is critical that this line be properly clamped at the fuel tank. DO NOT FAIL TO DO THIS TO AVOID A FIRE OR EXPLOSION.
(6"/15cm) 1/8"/3mm ID Tygon® LP1100 fuel line (from bulkhead fitting to tank filter-clunk)
(38"/97cm) 3/16"/4mm ID black pulse-port line
(4"/10cm) 1/4"/6mm ID black reinforced fuel line (for filter and pump mounts)
(10) zip ties
(2) 1/4"/6mm silicone fuel cap for unused fuel tank supply fitting(s)
(1) VLCP green type (#1)
(1) VLCP red type (#2)
(2) 9mm hose clamps for carb and pump outlet
(1) 10mm hose clamp for tank fitting for fuel overflow line
(1) replacement (10) micron, high quality, high volume inline fuel filter (used in commercial chainsaws)
(1) Briggs & Stratton fuel shut off valve/pressure regulator, marked white
(1) Bulkhead fitting w/ grommet, 1/8"/3mm line, and tank filter (clunk)
(1) rotary cutter for making the fuel tank opening
(1) inexpensive (Chinese clone) shut-off valve for oil drain
(1) Fuel line quick connect/disconnect at bulkhead fitting
Installation instructions
B. External pulse port option $14
6mm drill & tap
(1) 6mm barbed fitting
Installation instructions
C. Fixed carburetor jet option $12
D. Electric fuel pump option $167
Facet 12V electric pump w fittings
12V LiPo 2200 mAh battery (does not include LiPo charger)
required wiring and on/off switch
Installation and maintenance
The photos of the FSM installation are for illustrative purposes only and are *not* a guide for installation. Current setups of test engines may be different. The FSM kit is shipped with detailed installation instructions which are constantly being updated. Contact us is you need a current copy.
Engines without a pulse port
The red arrows point to external pulse ports installed in the crankcase of a Top 80. The upper port (plugged) is for a 1/8" barb X 1/4" NSF fitting. The bottom 6mm barbed port requires less work to install and why I chose to use it. Installation of the port does not require extensive skills other than being able to use an electric drill. If you need to install the port, it is a good idea to practice on a piece of hardwood or, better, a 1/4" piece of aluminum if you have never drilled and tapped a hole before. These extra items are included in the kit for engines without a pulse port:
FSM parts identification
VLCP regulator type #1 type green
Fuel overflow line to the main fuel tank
VLCP regulator type #2 type red
Manometer tube (for testing purposes)
Pressure adjustment valve (marked white in kit) Note: Chinese-made clones of this valve *cannot* be used. They will quickly leak. How do we know this....
Fuel line from pump
Engine pulse port
Pulse line from the engine crankcase port to fuel pump port
Fuel line to carburetor
Capped-off original fuel supply fitting going to clunk in tank
Fuel overflow line going to fuel tank. Note: additional fittings may be required for some tank as not all tanks have enough openings for the FSM to work correctly.
Pump output fuel line to pressure adjustment valve
Pulse line from engine pulse port
Fuel pump
Pump oil bleed valve (marked white in the kit)
Tank bulkhead valve with in-tank filter clunk (existing clunk may be left in tank) Note: Chinese made clones of this valve *cannot* be used! They will *leak* and create a fire/explosion hazard.
Oil drain line to bottom of frame. Note: The propeller may have a very light coating of pure oil which can easily be wiped off, if desired.
Premium inline fuel filter (10 micron) Note: This type and quality of filter must *always* be used in the FSM system! Any debris of the smallest size will quickly clog the oil bleed valve or the air vent in the fuel pump.
Inexpensive shutoff valve (not shown) on end of oil drain line to prevent oil leakage during transport.
Tank fuel line quick connect/disconnect (not shown) Note: without this fitting, fuel tank removal/installation is difficult.
All pulse operated pumps must have an oil bleed if located below the engine pulse port or the pulse chamber on the pump will fill up with oil after about (30) minutes and fail.
Installation
Installation of the FSM consists of:
capping off the existing fuel tank fitting that goes to the in-tank filter (clunk)
drilling a hole in the fuel tank for the bulkhead fitting assembly (uses a special cutter included in the FSM kit) Note: Unless this special rotary cutter is used, the bulkhead fitting *will* leak! You cannot use an ordinary drill bit which will make a triangular shaped hole and prevent the grommet from sealing the opening. Extreme care must be taken when making the hole and removing any burrs. The kit includes full instructions on how to do this correctly.
removing the existing squeeze bulb priming system (if there is one)
installation of some method to pressurize the fuel tank by breathing into a tube (if there is not one already) Note: the fuel tank *must* be vented to the atmosphere. Failure to do so this could result in a fire or an explosion at an inconvenient time!
mounting the various parts included in the kit, starting with the Walbro fuel pump. Note: the Walbro pump must be "clocked" correctly to work in the FSM. The supplied pump in the FSM kit has the correct setting. Do *not* disassemble the pump carelessly or unless needed. It has many small parts that go everywhere if you are not careful. How do we know this....
replacement of the main jet (WG-8/Husqvarna #503282001 carburetor ONLY)
Complete instructions are provided with the kit.
NOTICE: ALL MODIFICATIONS TO THE FUEL SYSTEM ARE DONE AT YOUR OWN RISK. THE MODIFIED FUEL SYSTEM CAN LEAK GASOLINE WHICH CAN BE A FIRE OR EXPLOSION HAZARD. YOU MUST BE CERTAIN THAT ALL HOSES AND FITTINGS HAVE BEEN PROPERLY INSTALLED SO THAT NO HOSE CAN SLIP OFF AND LEAK FUEL. USE OF ANY FUEL LINE OTHER THAN SUPPLIED BY US CAN GREATLY INCREASE YOUR RISK OF FUEL LEAKAGE OR RUPTURE. ANY ENGINE MODIFICATION MAY VOID THE MANUFACTURER'S WARRANTY. YOU MUST HAVE THE SPECIAL TOOLS LISTED ON THE TUNEUP PAGE AND KNOW HOW TO USE THEM. IF YOU HAVE ANY DOUBTS OF YOUR MECHANICAL ABILITY, HAVE AN EXPERIENCED 2 STROKE ENGINE MECHANIC DO THIS MODIFICATION. BY PURCHASING THE FSM KIT OR PARTS THEREOF FROM SOUTHWEST AIRSPORTS YOU ASSUME ALL RISKS FOR THE INSTALLATION OF THE FSM, EVEN IF WE DO IT FOR YOU. IF YOU DISCOVER OR EXPERIENCE A FUEL SYSTEM LEAK WHILE FLYING, DO NOT LAND. DISCONNECT ALL STRAPS HOLDING YOU IN THE HARNESS (I.E. PREPARE FOR A WATER LANDING). CONTINUE FLYING UNTIL THE FUEL TANK COMPLETELY EMPTIES, IF POSSIBLE. FUEL WILL FLOW HARMLESSLY AWAY FROM THE ENGINE AND IT WILL BE SAFER TO LAND.