Fuel system modification (FSM) for paramotors with diaphragm carburetors
by Had Robinson
updated May 13, 2020
Note: The FSM is still in the testing phase. This page is for information only. Availability has been delayed due to the current worldwide health crisis. Thank you.
Why the FSM?
Both the Walbro WG and WB series carburetors were designed for chain saws that have the fuel tank at the same level as the carburetor. Nearly all paramotors have the tank far below the engine and the fuel level can be 45cm/18" or more below the fuel inlet to the carburetor. This has caused fuel starvation problems and vapor lock in hot weather. The carburetor fuel pump was designed to move fuel horizontally, not vertically, from a tank located much lower than the engine. When the engine is running there is a vacuum at the carburetor fuel inlet fitting that ranges from negative 1.8-3.3kPa (7.2-13inAq). The vacuum increases dramatically if fuel filters are clogged or there are other restrictions in the fuel supply system.
Benefits of the FSM
low cost, reliable, simple, durable, and vibration proof.
eliminates engine stall at launch
very fast throttle response
increased power, especially in the larger engines (>100cc)
midrange roughness and misfire reduced/eliminated
eliminates fuel starvation even with extreme heat and cold
high speed jet adjustment/size can be reduced without overheating
fuel vapor-lock rarely an issue
engine more efficient, cleaner burning
no electricity required
calibration is visual and easy, no special gauges or tools are required
works with all gasoline, including ethanol blends
If the ambient temperature is moderate (22C/70F) and every part of the fuel and ignition systems are in perfect order, paramotors usually have an adequate supply of fuel through the entire throttle range. However, an increase/decrease of the temperature, addition of altitude, modest problems such as semi-clogged filters, aged carburetor parts, ignition problems, and out-of-spec carburetor adjustments will almost guarantee that fuel starvation will occur.
As the throttle is opened, fuel flow increases along with the volume of air. The demand on the built-in carburetor pump also increases. Rather than just ceasing to pump fuel, it pumps proportionately less fuel the further the throttle is opened. That is, if fuel demand doubles, fuel supplied may be only 175% instead of 200%. If fuel demand triples, fuel supplied may be 250% rather than 300%. These figures vary but this explains the common problem of engines leaning out as the throttle is opened (and sometimes stalling at WOT as at launch). The common fix (and also done by the paramotor manufacturers) is to install a larger fixed main jet (WG-8) or open the main jet further (WB-37). The side effect is that the midrange is enriched. This causes the engine to "4 cycle" i.e. misfire in the midrange. One problem is traded for another. With cold weather, things get worse.
In order for the WG and WB series carburetors to function as designed, the fuel pressure at the carburetor inlet should be about 0.7kPa (0.1 PSI) or, in other words, just slightly positive. In tests at our shop, it was quickly discovered that the WG-8 carburetor is very sensitive to the fuel pressure at the carburetor inlet. The WB-37 carburetor is not as sensitive.
With the WG-8, a change in pressure of less than 1kPa (4inAq) affects the air/fuel ratio delivered to the engine and engine temperature and performance. The higher the pressure at the inlet valve, the more fuel moves through the valve when it opens. This is why pressures inside are critical. During field tests, the inlet pressure was varied. When the pressure was dropped engine temperature in a Polini Thor 130 increased 30C-40C very quickly, even while running in the midrange.The WB-37 is not as sensitive.
How can the problems be fixed?
An auxiliary fuel pump could be added to the existing system but its output pressure would be too high (14-48kPa/2-7 PSI) and too variable, especially for the WG series carburetors. Some pilots are experimenting with an auxiliary fuel pump ONLY (no pressure regulation) on the WB-37 and this carburetor may work well enough but it will still need a modified fuel pump that does not collect oil. A precision pressure regulator could be added to the system that will maintain a constant pressure regardless of other external factors. However, commonly available fuel pressure regulators (e.g. the Holley 12-804) do not have the correct range required and, even if they could be used, are expensive and heavy.
Hence, the need for the FSM – it eliminates the inherent problem with the fuel tank location and supplies fuel at a VERY LOW CONSTANT PRESSURE (VLCP) to the carburetor over the entire throttle range. It maintains an average pressure of about 1kPa (4inAq) from idle to full throttle at the carburetor fuel inlet of any sized, single cylinder, 2 stroke paramotor using a diaphragm carburetor. Extensive testing has demonstrated that the FSM allows for a smaller main jet (fixed or adjusted). Manufacturers install larger main jets to compensate for the lower pump output at WOT. This, however, makes the midrange rich and causes "4 cycling" of the engine. Instead of some fraction of the fuel needed near or at full throttle, 100% is supplied which eliminates the need for greater main jet sizing. When I first starting studying these carburetors I wrongly assumed that the very rich midrange was deliberate for some reason. When I installed the first FSM I realized the engineering brilliance of the Walbro diaphragm carburetor.
With the FSM, the common and annoying stall when quickly going to full throttle at launch becomes a thing of the past.
Larger engines have demonstrated a 10% increase in power at WOT.
Below is a tachometer reading of 9,080 RPM at WOT with the FSM installed on a Polini Thor 130, stock carbon fiber prop, at HIGH ALTITUDE (4,500' MSL). Normal WOT for this engine at this altitude is about 8,400 RPM. The difference is pronounced and why engine RPM must be monitored carefully after the FSM is installed so maximum specified RPM is not exceeded. Throttle response is instant.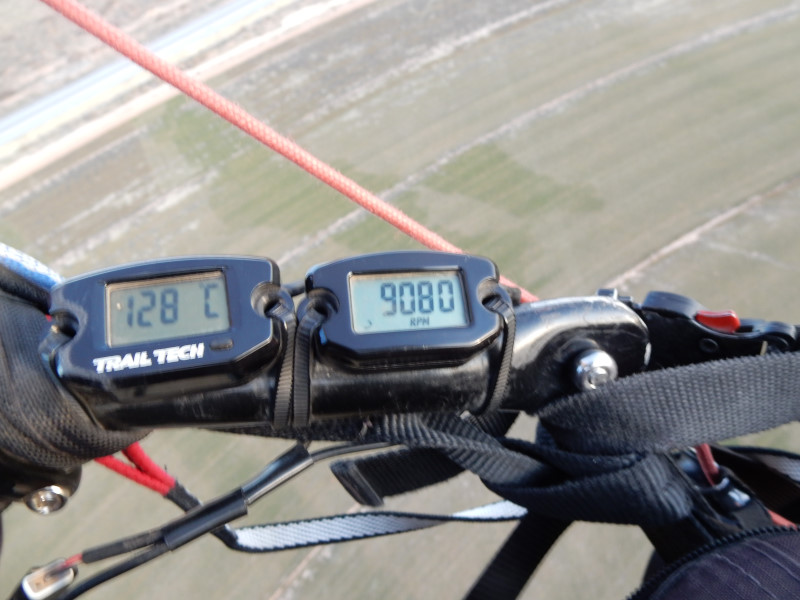 The heart of the FSM is comprised of a modified Walbro pulse-powered fuel pump and the proprietary VLCP regulator assemblies. An external pulse port is required to operate the pump. Unfortunately, the Top 80 has an internal pulse port so an external port must be added. It is a relatively simple task to drill and tap a hole in the crankcase near the reed valve assembly for a 6mm (1/8" barb x 1/4" NSF) barb fitting. The right sized drill and tap will be included in the FSM Top 80 kit.
Why not use an electric pump? It is an option but it would require a battery, wiring, and add significant extra weight to the paramotor.
Below is a photo of the Walbro fuel pump connected to an idling Polini Thor 130. It pumps about a liter per minute at a 60cm (2') head, much more than would ever be required. The pressure output is about 48kPa (7 psi). Other pulse-powered pumps could not compare to the Walbro. Tests on clone pumps (Chinese knock-offs of the Walbro) had output pressures <25% of the Walbro's, including poor output. They cannot be used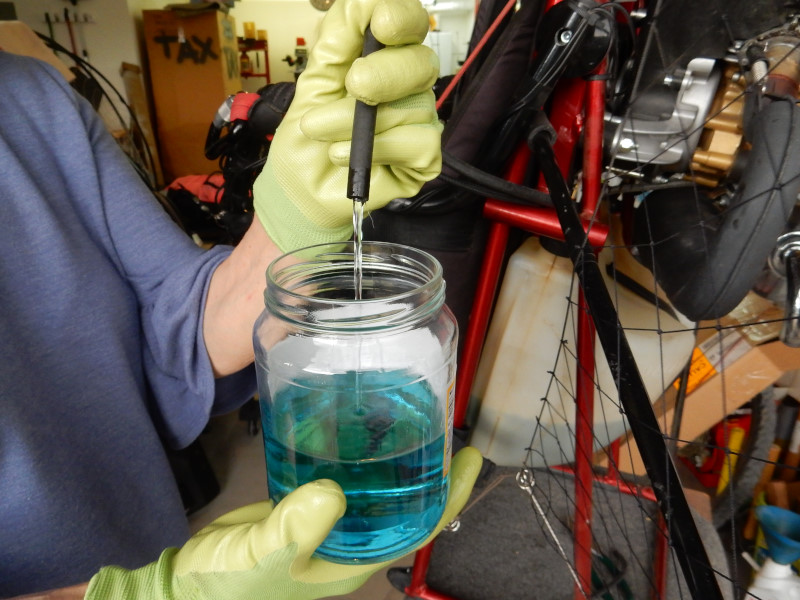 Drawbacks of the FSM
carburetor must be rebuilt every 25 hours of operation (the FSM will not function correctly unless the carburetor is in perfect order).
priming, choke use, low speed and idle settings and jetting become more sensitive to temperature and altitude
system must be monitored for leaks
engine requires an external pulse port
fuel pressure should be checked before each flight
some routine maintenance required
the ignition system must also be in perfect order to take advantage of higher engine output
WARNING: THE FSM CHANGES THE THROTTLE RESPONSE AND OUTPUT IN MOST ENGINES. PILOTS MUST EXERCISE CARE IN GOING TO/NEAR FULL THROTTLE. MONITOR ENGINE RPM CAREFULLY SO AS NOT TO EXCEED THE MAXIMUM SPECIFIED BY THE MANUFACTURER. INCREASED PITCHED PROPELLERS MAY BE REQUIRED.
Other solutions typically involve modifications of the carburetor, special metering lever springs, and over-sized jets. But none of these fix the root problem –> a carburetor fuel pump designed for a fuel tank at the same level as the carburetor. An electric in-tank pump (as has been used in all automobiles for decades) could solve the problem but it would still require the VLCP regulator system. The cost would be well over $250, add significant weight, and would have complex electrical requirements including a battery. Band-Aid type fixes may slightly help but they only work well under some conditions (cold/hot/high altitude) but not another. With these partial/temporary solutions carburetor tuning becomes difficult (or impossible) and unpredictable.
The immediate availability of pressurized fuel right at the carburetor fuel inlet makes tuning more difficult because it must be precise. In tests, a 1/16 turn on the idle adjustment screw was quickly noticeable. Pilots will have to develop a new and somewhat different paradigm for priming their engines. It is a small price to pay for a dramatic increase in performance and power.
Pilots flying at all altitudes and conditions will benefit from the FSM. Tests at sea level in pleasant conditions demonstrate that throttle response and engine power are the most dramatic improvements. Nonetheless, high altitude and/or cold temperatures will still require main jet adjustment/replacement and the usual adherence to cold weather operation checklist items.
Because of decreased main jet settings, midrange performance modifications may not be required.
If ethanol fuels are used, pilots must allow for more frequent maintenance of the system. Ethanol, a powerful solvent, tears up fuel system parts!
While the FSM greatly improves the overall fuel supply system, engine performance can still suffer due to the same reasons as with the stock system, such as:
incorrect carburetor adjustment
overdue carburetor maintenance
clogged filters
use of ethanol fuel mixes
water/contaminants in fuel
incorrect metering lever value
crushed or defective fuel lines
incorrect main jetting
worn out or incorrectly adjusted spark plug
ignition and mechanical issues
The FSM is *not* a cure-all for a poorly maintained or incorrectly adjusted engine. It is a permanent fix of the fuel supply system and the inherent weakness of the Walbro carburetor fuel pump *ONLY*.
Parts list – existing external pulse port
not listed at this time until testing is complete
Parts list – no existing external pulse port (additional parts)
not listed at this time until testing is complete
Installation and maintenance
Thor 130 FSM, other large engines similar
Important parts identification on a Polini Thor 130. The VLCP regulators are only available from Southwest Airsports:
VLCP regulator #1 (vented to the atmosphere)
fuel overflow line going to the main fuel tank
VLCP regulator #2
fuel line to carburetor
fine pressure adjustment valve
inline OEM fuel filter between fuel tank and fuel pump
modified Walbro fuel pump
pipe from engine pulse port to fuel pump port
Unmodified fuel pumps will quickly fill up with oil from the crankcase after (30) minutes, effectively stopping operation of the FSM system. Don't ask me how I know this....
Top 80 FSM
The red arrows point to external pulse ports installed in the crankcase of the Top 80. The upper port is for a 1/8" barb X 1/4" NSF fitting. The bottom 6mm barb port requires less work to install. I chose to use the 6mm barb. Install the port does not require extensive skills other than being able to use an electric drill successfully. I would practice on a piece of hardwood or, better, a 1/4" piece of aluminum if I had never drilled and tapped a hole before. Instructions on how to use a tap in aluminum, a soft metal that easily galls, will be included in the kit.
Important parts identification on the Top 80. The VLCP regulators are only available from Southwest Airsports:
fuel overflow line going to the main fuel tank
VLCP regulator #1 (vented to the atmosphere)
VLCP regulator #2
fuel line to carburetor
fine pressure adjustment valve
fuel line from tank
modified Walbro fuel pump
inline OEM fuel filter
pipe from engine pulse port to fuel pump port
The FSM fits nicely on the Top 80.
NOTICE: ALL MODIFICATIONS TO THE FUEL SYSTEM ARE DONE AT YOUR OWN RISK! ANY FUEL SYSTEM CAN LEAK FUEL WHICH CAN BE A FIRE HAZARD! YOU MUST BE ABSOLUTELY CERTAIN THAT ALL HOSES AND FITTINGS HAVE BEEN PROPERLY INSTALLED SO THAT NO HOSE CAN SLIP OFF AND LEAK FUEL. ANY ENGINE MODIFICATION MAY VOID THE MANUFACTURER'S WARRANTY. YOU MUST HAVE THE SPECIAL TOOLS LISTED ON THE TUNEUP PAGE AND KNOW HOW TO USE THEM. IF YOU HAVE ANY DOUBTS OF YOUR MECHANICAL ABILITY HAVE AN EXPERIENCED SMALL ENGINE (I.E. MOTORCYCLE) MECHANIC DO THIS MODIFICATION. IMPROPER INSTALLATION OR MODIFICATION OF FUEL SYSTEM COMPONENTS CAN RESULT IN FIRE, INJURY, OR DEATH. SOUTHWEST AIRSPORTS TAKES NO RESPONSIBILITY FOR THE SUITABILITY, DESIGN, OR QUALITY FOR ANY AND/OR ALL PARTS SUPPLIED FOR THIS MODIFICATION NOR FOR ERRORS OR OMISSIONS IN THE CONTENT OF THESE PAGES.