Flying Sites in the Southwest
NOTE: SOME OF THE INFORMATION HERE MAY NOT BE CURRENT. PLEASE CHECK THE RIO GRANDE SOARING ASSOCIATION SITE GUIDES FOR MORE CURRENT INFORMATION ON SOME OF THE SITES LISTED BELOW
Visiting pilots should read the introduction to safely flying the sites in this region.
Steve Crye follows a cloud street in Dona Ana County, NM. Photo by Steve. It does not get any better than this.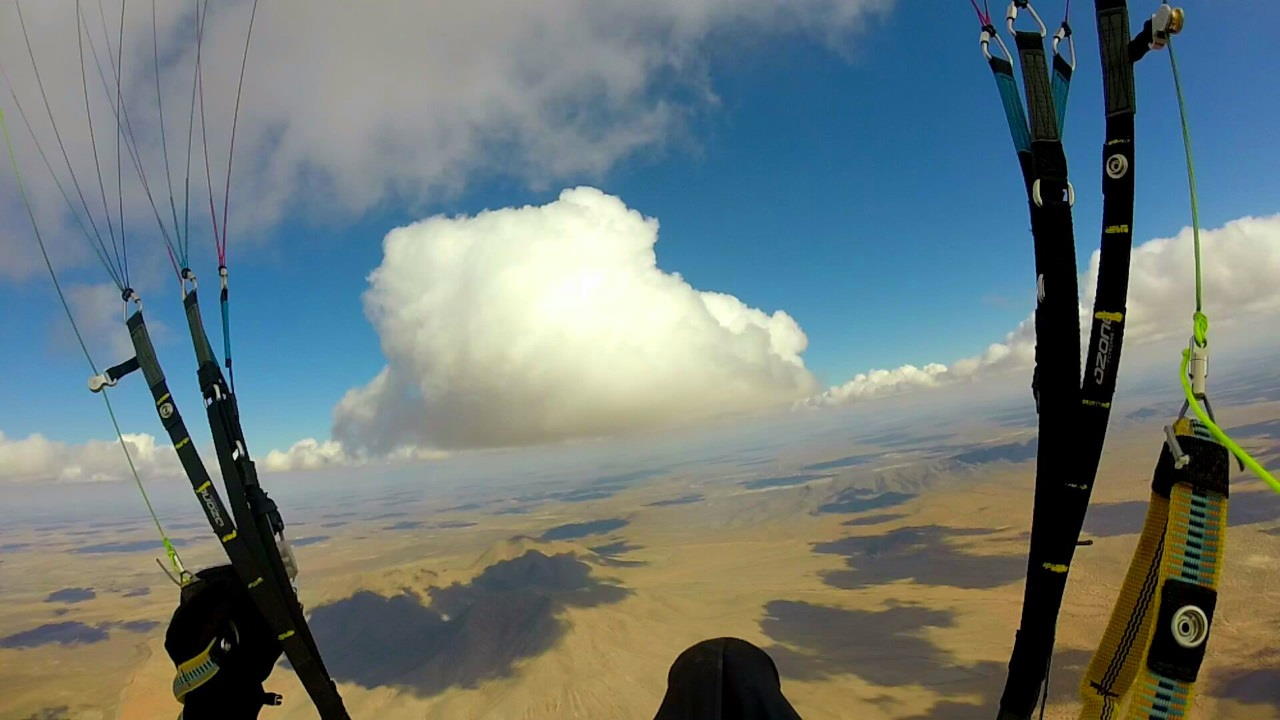 The HG content of the site guides listed here (and for the RGSA) were developed and written by Robin Hastings and Bill Cummings. The PG content was developed and written by Had Robinson with help from Steve Crye and Lee Boone. The site guide for Nelson's, however, is primarily the work of Steve Crye. It is a group effort to help our fellow pilots fly these challenging sites safely and successfully. All photos on these pages were taken by Had Robinson, except as noted.
Agave Hill Franklin Mountains State Park, El Paso, TX (HG/PG)
Anapra Mesa Anapra, NM (HG/PG)
Doña Ana County Airport Santa Teresa, NM (PPG)
Dry Canyon Alamogordo, NM (HG/PG) – Note: All pilots using the LZ for this site must be current members of USHPA with a H/P3 rating. The launch area is NFS public land and not insured or regulated in any way.
Elephant Butte Lake State Park Truth or Consequences, NM (HG/PG w tow/PPG)
Evergreen Turf Sod Farms Santa Teresa, NM (PPG)
East Potrillo Mountains Doña Ana County, NM (HG/PG)
Guadalupe Ridge Otero County, NM (HG/PG/PPG)
Highway 9 (HG/PG w tow)
Kilbourne Hole maar Doña Ana County, NM (HG/PG & PPG)
La Luz Alamogordo, NM (HG)
Lee's Lookout Franklin Mountains State Park, El Paso, TX (PG)
Mag Rim (HG/PG), southern NM
Mt Riley Doña Ana County, NM (PG)
Nelson's Launch Franklin Mountains State Park, El Paso, TX (HG/PG)
North Mt. Franklin Franklin Mountains State Park, El Paso, TX (HG/PG)
Sod Farms – see Evergreen Turf Sod Farms above
Transmountain Pass Franklin Mountains State Park, El Paso, TX (HG/PG)
Windy Point Alto, NM (HG/PG)