Current and Future Events
Training & Flying – Spring 2020
Training - We are ramping up for training in early July, hopefully. Permits, insurance, and the like are slow in coming because of the current crises and our move to our new location. Please be patient. Thank you, Had
Introductory videos: The Dream of Human Flight is now a Reality - The Joy of Paragliding – a fine video production by Steve Crye showing the elements of why we love to fly. Let's go places (from Toyota), Featured video and introduction to paragliding (from the National Geographic), Fly like a bird (from USHPA), Eagle Paragliding has this outstanding video on the front page of their website of a pilot flying in the Alps.
Nearly every country in the world promotes and loves adventure sports, like hang gliding and paragliding. Switzerland even put an image of a guy paragliding on their 50 Franc note. The Texas Parks and Wildlife Department has opened the doors of Texas parks to USHPA pilots. Other public land administrators in the U.S. should do the same.
Recent Events
June 2 Tuesday – Buffalo Mountain Oklahoma
Jason Tilley & yours truly had to take advantage of good flying conditions at Buffalo in the Ouachita Mountains. Arriving in the afternoon, we were met at launch by Ron Kohn, a great PG instructor and pilot who lives at the base of the mountain. He gave us a valuable intro to the site, especially the hazards and how it works. Jason and I are both relatively new to the region and getting with the locals is always recommended. Winds were moderate and thermals were weak, a good environment for learning how an unfamiliar site works.
After launching we both had to work to stay aloft. That is, turns in the air had to be perfectly flat (sharp turns lose a significant amount of altitude). It was intense finding and staying in lift. Conditions became weaker as the afternoon went on requiring us to land at the LZ out front but then things got stronger and we were both able to top land later. Ken Cobb (the landowner of both launch and the LZ) kindly gave Jason a ride back to launch, saving me a trip. Thank you!
Jason was the 1st to launch. Ron watches in the foreground.
The outstanding launch area. Ken is standing at the primary PG and HG launch. The others work better when winds are high.
The LZ – an easy and safe glide from the top of Buffalo.
View from launch. In the far distance is Kiamichi Mountain, a long ridge populated with wind mills. The Potato Hills are the small mountains in front. Ken is watching Jason land at the main LZ.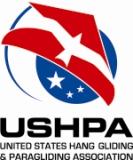 The content of this website is copyright © 2020 by Southwest Airsports, LLC. All Rights Reserved Worthy is the Lamb who was slain