Current and Future Events
Spring 2022
Introductory videos and information about paragliding.
Training month of June
On schedule – please contact us for training locations, cancelations, weather issues, and/or dates.
Recent Events
Friday June 3 - Panorama
Moderate temperatures, buoyant air, gentle winds from the northeast all made flying at Panorama another one of those magic times we have in the region. A gaggle of about 15 pilots enjoyed flying until dark. Yours truly top landed for the first time - something the launch does not encourage because of its small size and the problem of rotor and turbulence, especially if the winds are more northerly.
Friday May 13 - Poteau River flooding lowlands
Last week we had a deluge - and it takes that long for the runoff to reach a river. The Poteau River was high enough that it moved inland (from the right in the above photo). Fortunately, yours truly was in the air and did not have slosh through the fields.
Saturday May 7 - LeFlore County view
Sunday May 1 - Jamie Hackler continue her P1 training
Jamie is a high school teacher at Poteau High School and helping acquaint her students with aviation. She has come to the right place! We welcome her to our increasing roster of local pilots seeking to enjoy life as a bird!
Ready to be towed up! Jamie is progressing very fast in her training due to, in part, being in good physical shape. Pilots need to be able to run 30 yards in 6 seconds or less to enjoy optimal safety launching and landing.
With towing, getting altitude in order to do maneuvers safely is EASY. She had (6) flights today. The emphasis for P1 is to launch and land safely. Everything is done under radio instruction.
Jamie gliding along in the air above the airport.
Tuesday April 26 - Nine pilots training via tow for the P4
Tuesday was on of the busiest training days via towing at the Poteau Airport in recent years! Britton Shaw and Had Robinson each operated a winch for over 6 hours, putting pilot after pilot into the air for the P4 certification. It's a tough test: pilots must continually land within a (10) foot radius of the LZ marker. Keith Hamrick was key assistant who made sure that the towline stayed on the turnaround pulley. Thank you, Keith!
We all had the privilege of FAA air traffic controller, Jim Fuhrman, to ensure that there was never a mix of paragliders and general aircraft the entire time. This was critical help that the student pilots and tow operators had to have and that off-loaded a huge concern to a professional. A BIG THANKS TO JIM!
Today's students were: Todd Peele, Shelli McDaniel, Chris McDaniel, Branson Rhoads, Mike Farney, Stuart Wilson, Joey Levin, Dennis Blackstad, Paul Condron, and Jim Fuhrman. We will continue our training the next fine day we have during the spring weather hiccups.
Saturday April 2 Site survey - north launch at Panorama
Britton Shaw needed some testing done of the air around a proposed launch area at Panorama that would allow pilots to enjoy the site when winds are largely from the north. Yours truly spent over an hour in the air, both in average sunny conditions around the LZ and also when it became shaded. In sunny conditions, the LZ (blackened from a recent controlled burn) was very active and the air around it was as sinky as it gets (1-1.5 m/s down). The proposed launch site is about 1,000' further from the LZ and 100' lower which makes it an intermediate, advanced site
Panorama LZ in partial shade. Note: the recent burn left a layer of ash everywhere that get on your glider. It is especially thick outside the grassy landing strip. It is not greasy, thankfully.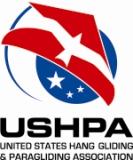 The content of this website is copyright © 2022 by Southwest Airsports, LLC. / All Rights Reserved / Worthy is the Lamb who was slain