Current and Future Events
Training & Flying – Spring 2020
Training - We are ramping up for training in late June, hopefully. Permits, insurance, and the like are slow in coming because of the health crisis and our move to our new location. Please be patient. Thank you, Had
Introductory videos: The Dream of Human Flight is now a Reality - The Joy of Paragliding – a fine video production by Steve Crye showing the elements of why we love to fly. Let's go places (from Toyota), Featured video and introduction to paragliding (from the National Geographic), Fly like a bird (from USHPA), Eagle Paragliding has this outstanding video on the front page of their website of a pilot flying in the Alps.
Nearly every country in the world promotes and loves adventure sports, like hang gliding and paragliding. Switzerland even put an image of a guy paragliding on their 50 Franc note. The Texas Parks and Wildlife Department has opened the doors of Texas parks to USHPA pilots. Other public land administrators in the U.S. should do the same.
Recent Events
The danger of getting too close to the bottom of a rapidly developing cloud. It's time to *get* down. The pilot here is entering a spiral dive – and why learning how to do these maneuvers safely is a good idea. Even so, he was briefly in a "white-out". (This event did not happen in U.S. airspace.)
Flying cross country in central Florida - nothing like being at cloudbase!
Dry Canyon Alamogordo, NM in January - photo by V. Strader
Dry Canyon with a light snow coming down. The small figure at launch is Lee Boone who is going to join us in the air!
Flying in Valle de Bravo - a perfect, controlled launch by a visiting pilot. Note the trailing edge and the pilot's skill in keeping the glider from surging over his head.
Paragliding in Big Sur
Paragliding in south central New Mexico. The towering clouds in the distance are strong thermals coming off the Potrillo Mountains. (photo by Steve Crye)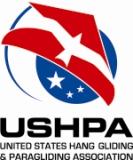 The content of this website is copyright © 2020 by Southwest Airsports, LLC. All Rights Reserved Worthy is the Lamb who was slain