Current and Future Events
Fall 2020
Introductory videos: The Dream of Human Flight is now a Reality - The Joy of Paragliding – a fine video production by Steve Crye showing the elements of why we love to fly. Let's go places (from Toyota), Featured video and introduction to paragliding (from the National Geographic), Fly like a bird (from USHPA)
Nearly every country in the world promotes and loves adventure sports, like hang gliding and paragliding. Switzerland even put an image of a guy paragliding on their 50 Franc note. Our sport is popular because it is the purest and rawest form of aviation there is and one that an average person can afford (about the price of a 10 year old used car).
Training month of November
On schedule!
Recent Events
October 4, 2020 Sunday – Kerr Airport in Poteau, OK
Britton Shaw hosted a Fun Camp of about (10) pilots at the airport Sunday afternoon. It was a time of kiting practice, paramotor training, and getting towed up via Southwest Airsports' heavy duty winch.
Kiting in a big green area east of the runway. Jason Arnold in torpedo form (C) getting his glider ready to give him a 6' pop into the air.
Britton helping Todd Peele get safely connected to the glider. A windsock by Marilyn streaming away in the background.
One PG pilot coming back to land after a tow (L) and a PPG pilot (R) enjoying the late afternoon air.
September 19, 20 Panorama – Ouachita National Forest
But for the haze from the California fires, we had two great days flying. There were about (20) pilots total. Out in front of launch going up.
Haze has gotten a little better the last few days. The 40 mile long Talimena highway goes along a high ridge of the Ouachita's from Talihina, OK to Mena, AR. Looking north, launch is at the center, the cleared area to the right of the highway. Yours truly is parked over the radio/cell towers south of launch.
Huge LZ - hard to miss...
How beautiful is this? Of course, LZ's are limited other than trees. There were pilots this weekend from many states including Arkansas and Texas.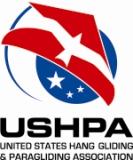 The content of this website is copyright © 2020 by Southwest Airsports, LLC. / All Rights Reserved / Worthy is the Lamb who was slain