Current and Future Events
Winter 2021
Introductory videos: The Dream of Human Flight is now a Reality - The Joy of Paragliding – a fine video production by Steve Crye showing the elements of why we love to fly. Let's go places (from Toyota), Featured video and introduction to paragliding (from the National Geographic), Fly like a bird (from USHPA)
Nearly every country in the world promotes and loves adventure sports, like hang gliding and paragliding. Switzerland even put an image of a guy paragliding on their 50 Franc note. Our sport is popular because it is the purest and rawest form of aviation there is and one that an average person can afford (about the price of a 10 year old used car).
Training month of February
On schedule – please contact us for training locations and dates.
Recent Events
February 11, 2021 Hoarfrost at Panorama launch, Ouachita Mountains, OK
Yours truly went up to repair the gate to launch that had been damaged by some people. What I saw was amazing.
The road going to launch off the Talimena Highway.
Panorama launch parking area
Panorama launch. Cloudbase is likely 500' lower than launch. It was a true winter-wonderland that that Creator gave us that day.
February 9, 2021 PPG at the Poteau Airport
It was cold flying today – and misty with a 300' AGL cloudbase. Such conditions which are near freezing but not quite enough to produce snow often produce ice. Just like in an ordinary aircraft, the leading edge of the glider started to accumulate clear ice. A pilot cannot see the leading edge but he can see his risers, clothing, etc. When they start to accumulate ice, it is time to promptly land. The glider's shape had not begun to change nor was there any perceptible change in its handling, which is always the most important thing to watch. Reflex gliders are more resistant to the effects of increase weight from icing than a standard PG glider. Nonetheless, if there is a chance of ice occurring, it is important to be close to the ground (<200') so a pilot can land quickly, as conditions warrant.
This is the sign on your clothing that it is time to get on the ground.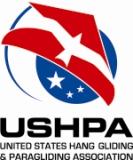 The content of this website is copyright © 2021 by Southwest Airsports, LLC. / All Rights Reserved / Worthy is the Lamb who was slain