Current and Future Events
Training & Flying – Fall 2019
Training - We are in the peak of our training season. Payment of tuition will reserve your preferred date and time.
Introductory videos: The Dream of Human Flight is now a Reality - The Joy of Paragliding – a fine video production by Steve Crye showing the elements of why we love to fly. Let's go places (from Toyota), Featured video and introduction to paragliding (from the National Geographic), Fly like a bird (from USHPA),
Paragliding in Franklin Mountains State Park (from the Texas Parks & Wildlife Department, Austin, Texas). Eagle Paragliding has this outstanding video on the front page of their website of a pilot flying in the Alps.
Nearly every country in the world promotes and loves adventure sports, like hang gliding and paragliding. Switzerland even put an image of a guy paragliding on their 50 Franc note. The Texas Parks and Wildlife Department has opened the doors of Texas parks to USHPA pilots. Other public land administrators in the U.S. should do the same.
Recent Events
August 14 -- Anapra Mesa, NM
Soaring the Mesa was a joy today even though it was a bit rough. The winds would stop and go and change direction 10 or 15 degrees. The air before a storm is always a bit rowdy, twitchy and why post-frontal flying is always smoother.
It's hard to tell but the atmosphere was on the edge: the dewpoint spread was close and temperatures high. Just 30 minutes after this photo was taken, the sky began to OD. It was obvious so it was time to get down!
It is good practice to fly in all reasonable conditions as it continues our education on how the atmosphere works, increasing our level of safety.
Paragliding in Big Sur
Paragliding in south central New Mexico. The towering clouds in the distance are strong thermals coming off the Potrillo Mountains. It rains a lot out there, probably double of what we get in the Rio Grande Valley. Photo by Steve Crye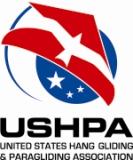 The content of this website is copyright © 2019 by Southwest Airsports, LLC. All Rights Reserved Worthy is the Lamb